Flashback Friday (Feb 8-12): Best Articles in UX, Design & Ecommerce This Week
Flashback Friday (Feb 8-12): Best Articles in UX, Design & Ecommerce This Week
What's the best of the web this week? We cherry-picked the most interesting articles on UX, Design, Ecommerce, Product & Digital Marketing from around the web. And please share this with your colleagues and friends. Who knows, this could be something to talk about when you're back in the office on Monday. Happy reading!
Feb 12, 2016 - clickz.stfi.re -

40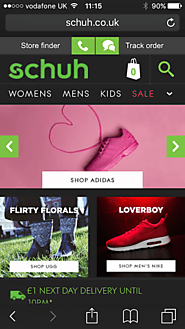 By Graham Charlton
Graham Charlton's Profile
Graham Charlton on Twitter
When writing about ecommerce, there are a number websites I can rely on for best practice examples to use. One of these is Schuh. It's a mark of the retailer's all-round excellence online (and across channels for that matter). So, I've decided to look at the lessons others can learn from Schuh…
Feb 12, 2016 - medium.stfi.re -

37
By Joshua Taylor
Joshua Taylor's Profile
Joshua Taylor on Twitter
Increasingly, more and more companies are looking for great design leadership these days. They are being told that their company needs a bigger focus on design thinking and are keen to adopt more design centric principles.
Feb 12, 2016 - dtelepathy.stfi.re -

41
By Joel Marsh
Joel Marsh's Profile
Joel Marsh on Twitter
Designers are often seen as someone that needs to have the important business goals explained to them in the most basic of ways. I think our suggestions about design would carry a lot more weight if we were able to have insightful conversations, and offer valuable suggestions about core business principles.
Feb 12, 2016 - fastcodesign.stfi.re -

43
Feb 12, 2016 - blogs.adobe.stfi.re -

42
By Linn Vizard
Linn Vizard's Profile
Linn Vizard on Twitter
Digital has changed everything. Business models, consumer expectations, working patterns. For awhile it seemed nothing was sacred, or would be left untouched. Companies scrambled to keep up, to build apps, to go responsive. Usability, design, and UX were in the spotlight as differentiators and must haves.