Flashback Friday: Best Articles in UX, Design & Ecommerce This Week (Mar 28-April 1 )
Flashback Friday (Mar 28-April 1 ): Best Articles in UX, Design & Ecommerce This Week
What's the best of the web this week? We cherry-picked the most interesting articles on UX, Design, Ecommerce, Product & Digital Marketing from around the web.
If sharing is caring, then share this with colleagues and friends (unless you don't have any friends - yes, I'm looking at you) 😉😅 Seriously, who knows, this could be something to talk about when you're back in the office on Monday. Happy reading!
Apr 01, 2016 - neilpatel.stfi.re -

24
By Neil Patel
Neil Patel's Profile
Neil Patel on Twitter
Traffic from mobile devices is still increasing. That being the case, your website must be mobile friendly and optimized for users. Recent studies from Google found that mobile visitors are more likely to revisit mobile-friendly sites. It's your responsibility to tap into this huge customer base of mobile users. These people are highly motivated and, if you're smart, you can build your business by leveraging mobile platforms.
Apr 01, 2016 - thenextweb.stfi.re -

20
Apr 01, 2016 - uxplanet.stfi.re -

21
By Nick Babich
Nick Babich's Profile
Nick Babich on Twitter
Well-designed animations make the experience feel crafted. In a human-centered design approach, where the user is the prime focus, animation actually creates a feeling of well-being once it's discovered by users. As a designer, recognizing the invisibility of animations is just as important as designing them. Because you have to create something that feels human and accomplishes a task.
Apr 01, 2016 - gorilla360.stfi.re -

21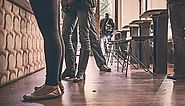 By James Dillon
James Dillon's Profile
James Dillon on Twitter
The simplicity of an ecommerce store's checkout page process is critically linked to its conversion rate. We have 7 simple ways to improve your checkout experience and boost those all important conversion rates.
Apr 01, 2016 - thenextweb.stfi.re -

20
By Alon Even
Alon Even's Profile
Alon Even on Twitter
Your app's success is contingent on a combination of factors, but I feel as you probably do as well, that the overall mobile user experience (UX) tops them all. The apps that stand out in the market are those that deliver great UX. Now, there are a countless number of elements that when applied in an optimum combination make your app's UX one that users don't forget.